El aprendizaje móvil
Resumen
Las nuevas tecnologías de la información y comunicación cada día se van incorporando a la enseñanza como herramientas de enseñanza-aprendizaje, por tal motivo cabe resaltar la del uso de los dispositivos móviles como medio para el aprendizaje electrónico, mejor conocido como m-learning.

Palabras clave: aprendizaje electrónico, m-learning
Abstract
Benzene is definitely very versatile and very important in chemistry because some compounds derived from it and it is one of the best solvents for iodine, sulfur, phosphorus, gums, waxes, etc. With its variety of uses and applications this compound is included in the so-called aromatic compounds.

Keywords: benzene, chemistry, compound, aromatic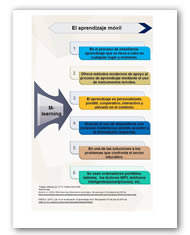 Bibliografía
Moreno, A.J. (2011). Móvil learning. Observatorio tecnológico. Recuperado el 15 de Agosto de 2016 de http://recursostic.educacion.es/observatorio/web/fr/cajon-de-sastre/38-cajon-de-sastre/1026-movil-learning
UNESCO. (2014). Las tic en la educación. El aprendizaje móvil. Recuperado el 5 de Julio de 2016 de: http://www.unesco.org/new/es/unesco/themes/icts/m4ed/
[a] (a) Profesor Escuela Preparatoria Núm. Tres