Plataformas de formación virtual
Resumen
Hoy en día se hace más uso de las plataformas educativas virtuales, en donde dependiendo de la que se utilice requiere de su propio software para su aplicación, en el presente trabajo se mencionaran los más importantes.

Palabras clave: Plataformas virtuales, LCMS, LMS, VLE, EVA
Abstract
Nowadays more use is made of virtual educational platforms, where depending on which one is used it requires its own software for its application, in the present work the most important ones will be mentioned.

Keywords: Virtual Platforms, LCMS, LMS, VLE, EVA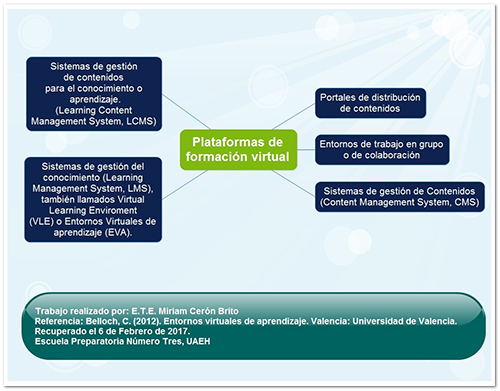 Plataformas de formación virtual
Bibliografía
Belloch, C. (2012). Entornos virtuales de aprendizaje. Valencia: Universidad de Valencia.
Recuperado el 6 de Enero de 2017
[a] Profesor Escuela Preparatoria No. 3